Der neue Top Gun-Film wurde von Millionen von Menschen freudig erwartet. Und das zurecht: Top Gun ist eine Ikone am Filmhimmel. Noch ikonischer machte Top Gun: Maverick allerdings die Schauspielerin Monica Barbaro, die die Rolle der einzig weiblichen Fliegerin in dem Blockbuster verkörperte.
Im Zuge dessen durften wir mit ihr über Feminismus und das Frau-Sein in einem eher männlich geprägten Beruf sprechen. Ihre empowernde Art und Weise, über den Beruf von Fliegerinnen und Schauspielerinnen in einem männlich-konnotierten Film und dem, was sie zu leisten und wogegen sie sich durchzusetzen haben, macht sie zu einer dieswöchigen Weekly Heroine.
Monica Barbaro: Kurz & Knapp
Monica Barbaro ist nicht nur Schauspielerin, sondern auch Ballerina. Tanzen war ihre erste und große Liebe, die sie auch nicht komplett hinter sich gelassen hat, nachdem sie nach dem College ihre Schauspielkarriere begonnen hatte.
Sie setzt sich leidenschaftlich für den Klima- und Umweltschutz ein und nutzt ihre Social Media-Reichweite von fast 400.000 Follower:innen auf Instagram, um auf diese Themen aufmerksam zu machen.
Die Rolle in Top Gun: Maverick ist erst ihre zweite Filmrolle.
Monica Barbaro im Interview mit wmn: Über Feminismus, Action-Stunts und DIE Beach-Szene
Wir von wmn hat zum Home-Entertainment Release von Top Gun: Maverick Fragen gestellt, die sich rund um den Film und ihre Erfahrungen als eine der wenigen Frauen innerhalb der Handlung drehten. Da Barbaros Muttersprache Englisch ist, haben wir das Interview auch in dieser Sprache geführt und werden es hier auch so abbilden, damit es zu keinen Verfälschungen oder falschen Übersetzungen kommt.
"The female pilots saw themselves in this movie"
wmn: I'm sure it has been a crazy year since Top Gun: Maverick premiered. Has something changed in your everyday life since you have been in the sequels of such an iconic movie?
Monica Barbaro: I mean, honestly, when the movie came out, I was actually filming a show in Toronto at the time, and so it's just been a lot of work since then. And I came back to L.A. and I definitely get invited to cooler parties and things like that. And I get to talk about this fun movie that everyone loves, but ultimately, things haven't changed that much. In my day to day, I don't really get recognized out on the street or anything like that. That's a lot more like jet paraphernalia on my bookshelf. But other than that…
wmn: I mean, that's already an achievement! Who wouldn't want that?
Monica Barbaro: Exactly. I think the thing that has changed is when I do meet women who are pilots, they have like a lot of really supportive things to say. And they saw themselves in this movie. And so that was probably the most rewarding thing that's shifted since we finished.
"The pilots earned every ounce of respect that they have in their industry and they're very strong."
wmn: You already mentioned that you are playing a pilot who is surrounded by male colleagues and you're still standing the ground. Was it really important for you to play a strong, independent woman in a film that could be described as male gazed?
Monica Barbaro: I think the really incredible thing about the pilots I got to meet and fly with who the character was designed after is that they really just earned every ounce of respect that they have in their industry. They're very strong and hold their own in a way that doesn't feel manufactured. They just are great at what they do and they're respected for being.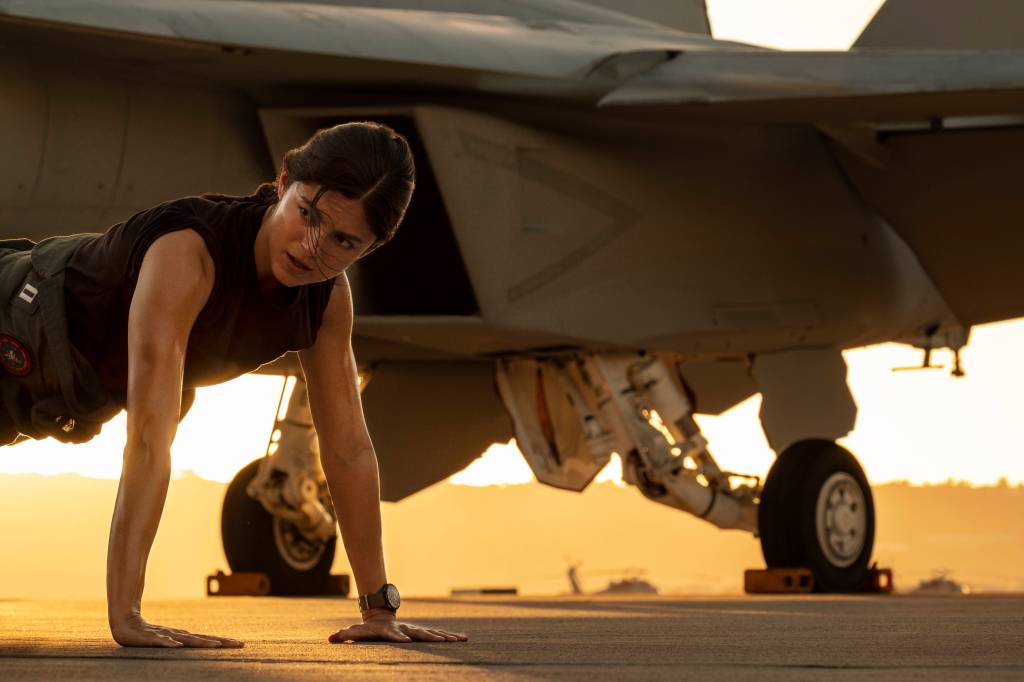 I think rather than going in and deciding, okay, we're going to play a strong independent female, it was just the task to play a pilot and to play a talented, respected, mature – maybe more mature than some of the other guys – pilot. And then it just so happened to be the character that I play. Therefore, she was female. So I think that it was nice that we got to really focus on the character rather than get too worked up about how we want to portray women.
"All of our preparation was inclusive of character research."
wmn: We already established that Top Gun in itself is iconic. How did you feel when you got the confirmation to be a part of something that big? And how did you prepare for the role? I mean, the action scenes and the flying scenes are incredible.
Monica Barbaro: Thank you! Yeah, I was stoked when I found out I got to do this because we had been told in the audition process that we would be flying Jets and that actually was a big part of the preparation for the role because we were going to be doing our own stunts in this way. We did loads and loads of flight training. Tom and our aerial coordinator, Kevin LaRosa, they designed this icredible training program similar to what Navy pilots actually go through in a much more like condensed time period.
But we went from one aircraft to the next and learned about general aviation and then about withstanding GS. And so in a way, that was a big part of our character work – getting to experience the training that in some way they [the pilots] go through. And then also immersing ourselves in the world that we were, portraying. We got to be on military bases and we got to work and fly with and have extended conversations with pilots who actually do this for a living. We were lucky to have the research be a part of the necessary training to complete the movie. It wasn't like an afterthought, like all of our preparation was inclusive of that research, if that makes sense.
Noch mehr Weekly Heroines findest du hier:
"At the end of the day, there was so much love behind the story of that."
wmn: That's pretty cool! Putting aside the work you all put into this movie, do you have any idea what makes these movies so successful?
Monica Barbaro: Yeah, I think there's so much heart in it. And it's a competition movie, which is always fun. And you really get behind each of these characters. I think they're all introduced really well. And at the end of the day, you just care so much about each one of them going on this mission. You want them all to come home. It doesn't hurt that we have the legacy of the previous Top Gun and the incredible work that Tom [Cruise] did on that movie.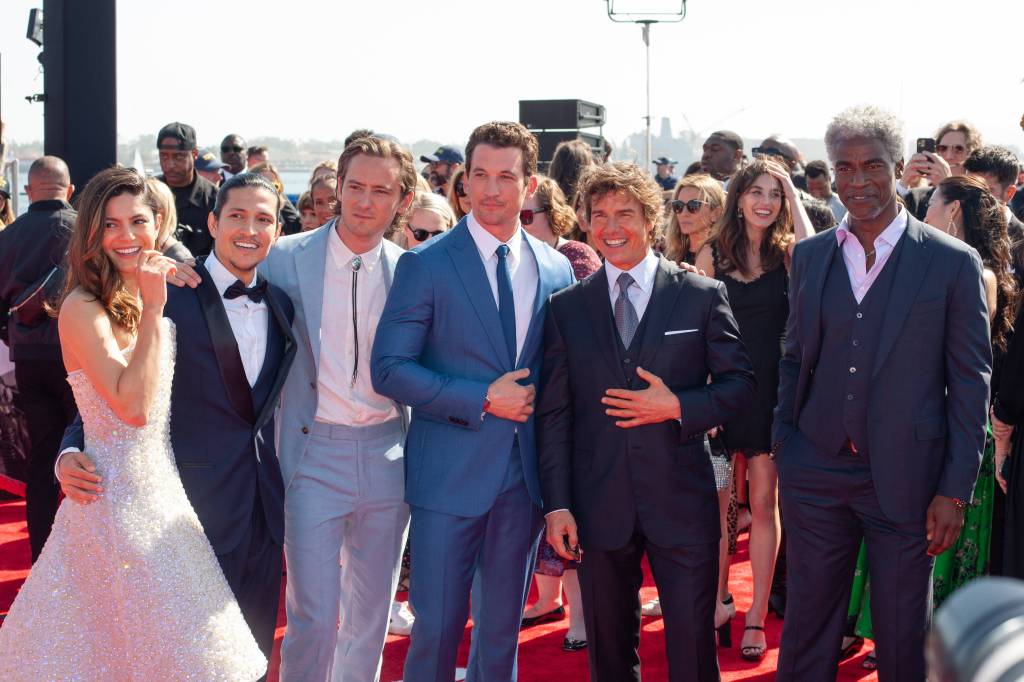 But even people who haven't seen the original just really fell in love with all of the characters. And it is, in a way, a love letter to aviation that even people who don't necessarily like flying themselves could get behind that. It's just this beautiful feat of engineering and deserves to be respected and watched in this way. I just feel like at the end of the day, there was so much love behind the story of that.
"Top Gun: Maverick is very celebratory of male bodies."
wmn: We already talked about male gaze and female gaze. Thinking about the beach scene, were you are dressed and your male colleagues are shirtless – can we talk about a female gaze rather than a male gaze since the women are not sexualized at all?
Monica Barbaro: It's interesting. It is very celebratory of male bodies. I never really thought about it in terms of male versus female gaze. But I do think it was very interesting as a woman to watch men train and sort of obsess over how they looked on like the game day. I'm used to assuming that that's an only female concern and that the media only portrays women with their clothes off.
But no, it was pretty fun to watch them like double down and obsess and train and become really intense about it. They worked very, very, very hard. And at the end of the day, I think it's just such a fun scene. And they were fun days to shoot; push ups between each shot and throwing the football on our time off. These guys were very, very, very disciplined, and I think it worked.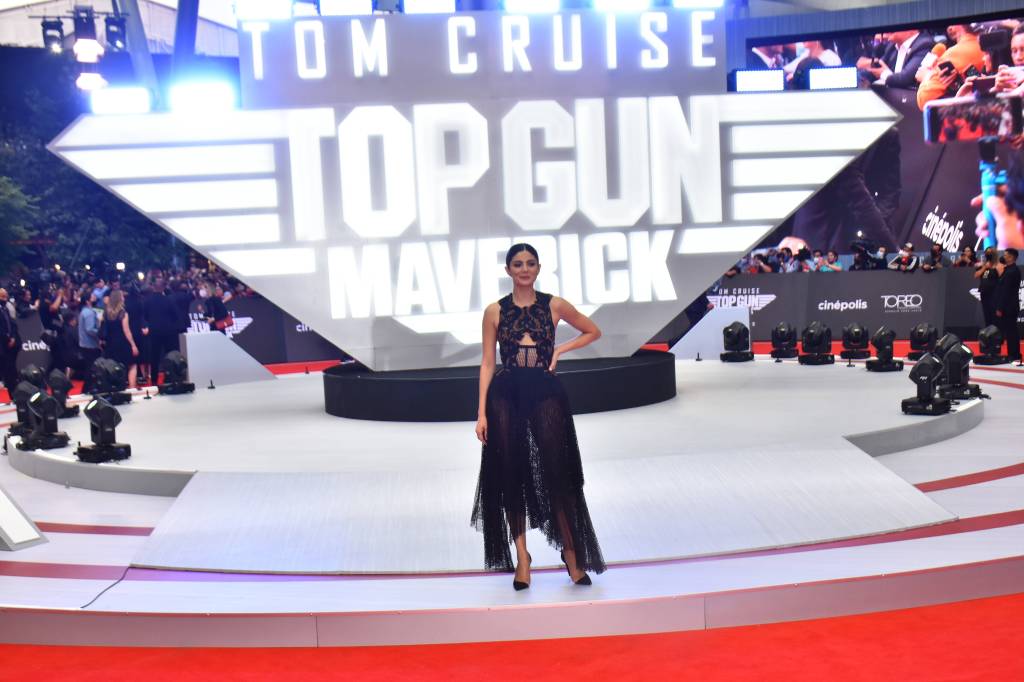 wmn: One last question. How did you prepare for the iconic beach scene? Did you all bathed in oil to glow like that?
Monica Barbaro: Oh, yeah, we had a oil and there was a very specific sunscreen that they put on us. You usually go for the less oily sunscreen they went for. But they wanted it to be as oily as possible, sprayed down with sweat. We'd put ocean water on ourselves and then we get so sandy that we have to be wiped down. And then everyone's working out, too. We're actually sweating. That was a wild couple of days. And then we actually went and reshot some of it. We had taken some time off, had the Christmas holidays, and then suddenly they were like, Oh, wait, actually we need to shoot some more of that. So everyone ran back to the gym and oiled up again.
wmn: Thank you so much for your time, Monica!